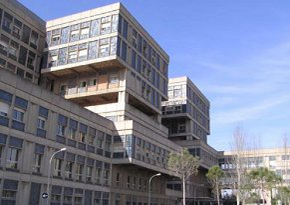 Catalan Institute of Oncology (ICO)
Barcelona, Spain
The Catalan Institute of Oncology is a specialised cancer institution created in 1995 by the Catalan Government's Ministry of Health. It started its activity at the Duran i Reynals Hospital in L'Hospitalet de Llobregat. In 2002 it inaugurated ICO Girona, in 2004 ICO Badalona, and in 2014 ICO Tarragona.
Currently, the ICO has four centres that work together with four university hospitals: Bellvitge Hospital, Dr. Josep Trueta Hospital, Germans Trias i Pujol Hospital and Joan XXIII Hospital.
It has its own territorial model. It is a multi-centre organisation that works in a coordinated way with 18 commercial hospitals across the territory.
Our mission:
To work to reduce the impact of cancer in Catalonia.
Vision:
To be an internationally recognised comprehensive cancer centre.
Valores:
We think like a patient, Quality and warmth, Decisions based on knowledge, Our teams are there for you, Research and innovation for a better future.
What we offer:
Patient-centred
Seeking proximity to the patient's home for low-complexity cases, and coordination that guarantees access at the referral hospital for disorders that require more advanced technological resources, taking into account all biological, psychological and social needs.
Comprehensive:
Onco-haematology patients are assessed in the broadest, medical and psychosocial aspect. Work is in interdisciplinary teams, integrated into functional units specialised by tumour type, for coordinated, effective and quality care.
Equitable:
The implementation of a network model, with multiple hospitals working in line with that same model, using the same procedural  guides (Clinical Practice Guides for each type of tumour, containing the ICOPraxi guidelines) and all acting in coordination, is the base framework for promoting an equitable model, in which all patients have access to the same diagnosis and/or in the most appropriate place.
Continuous:
Our care model, with specialised emergency telephone support 24 hours a day, guarantees continuity in the assessment and monitoring of patients. The results of the evaluation of this service show that there are clear benefits for patients, a high level of satisfaction and it contributes towards better use of hospital emergency services.
Efficient:
Our activity is based on three pillars: well-defined patient care objectives, scientific evidence-based clinical practice and a system of continuous assessment.
Strategic innovation in healthcare management:
The complexity of the patient care model that we need today, requires us to adapt to a new profile of patient: one who is much better informed and more demanding. For this reason, it is necessary to organise a flexible range of services, personalised and geared towards new needs, where public and private collaboration is present. In a sustainable system, clinical efficiency will lead to economic efficiency.
Get more information about ICO at: http://ico.gencat.cat/en/inici/index.html